Stainless
Oona
spout
In stock
Ships in 2-3 days

This is an interpretation of the Oona spout in stainless steel. The pleasant lines and elegant shape are enhanced by the polished surfaces associated with stainless steel. This is a glistening jewel well suited for use in any number of installations: a wall fountain, a swimming pool, as a drain outlet.
Quick facts
Size

5 ⅛ in diameter back plate
7 ¼ in projection

Material

316 stainless steel

Plumbing

1 ½ in pipe size

Arc length

9–16 in
see the flow profile
Shiny and elegant
We are drawn to shiny things. You might catch a glint of something while standing in line or walking down the street. It might be diamond earring, the sparkle of a watch crystal just catching the sun, or the sun's reflection in glass of water. Too much and it's blinding, but in small doses the effect is attractive. Simply put, monkey likes shiny.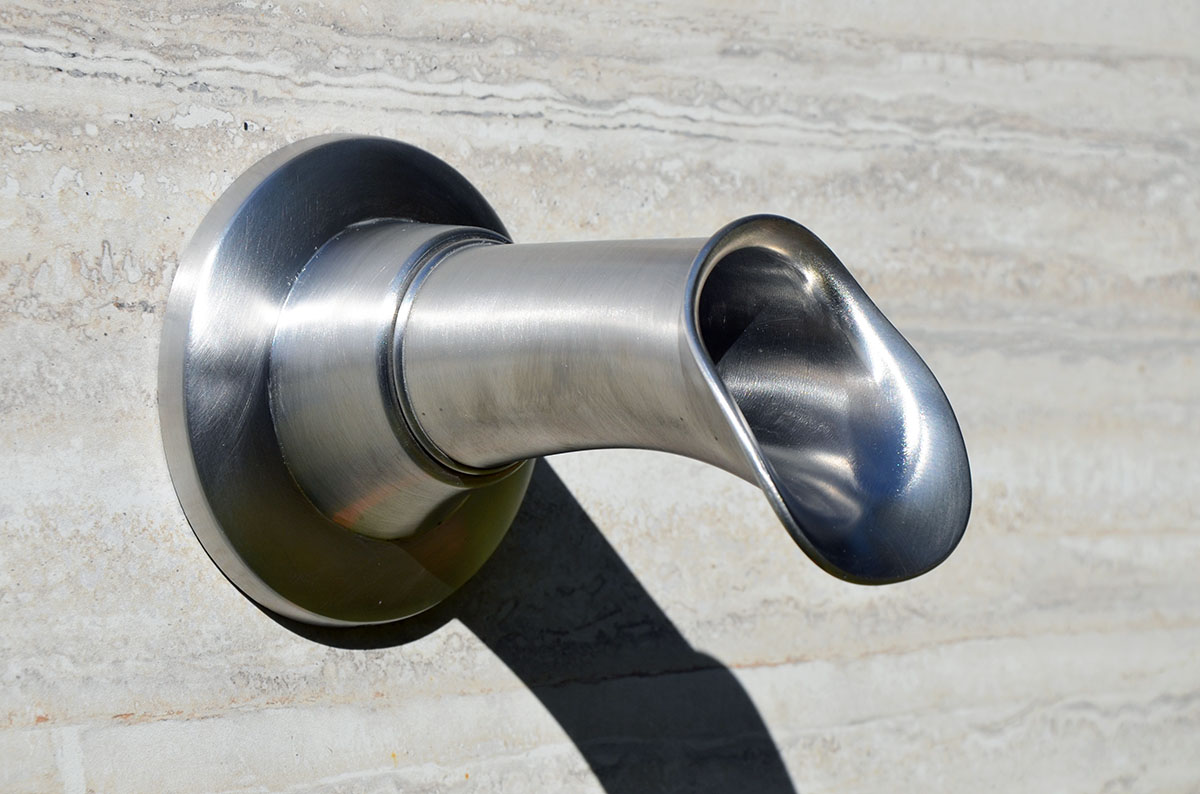 Well mannered flows
There are times when manners matter. One wouldn't go to a Yuja Wang concert and belt out a giant 'YEAAAAAAHHHHH' after she dispensed a gnarly passage at the piano with unfathomable dexterity. Such behavior is acceptable at a Metallica show. In fact, you don't have to wait for a special moment to show your enthusiasm, anytime is fine. There are times when you'd want a fountain spout to be well mannered.
If you think that classical musicians only know elegance and restraint, then you should know that Yuya is well known for her glamorous outfits. Here's a woman that knows about how shiny things work.
The downside of being so well mannered is that it can become boring. The sound from a constant stream of water spilling into a pool can be monotonous. Sometimes it's not what's needed. In a smaller courtyard with little sound damping, for example, a single stream of water pouring into a pond of water can sound like … ahem … a cow pissing on a flat rock - quite a bit too much
Use the spout in open spaces where you'd like some noise. If the quality of the sound is important then use three or more of these spouts. That will create some fluctiations and make the splashes more interesting and less mechanical.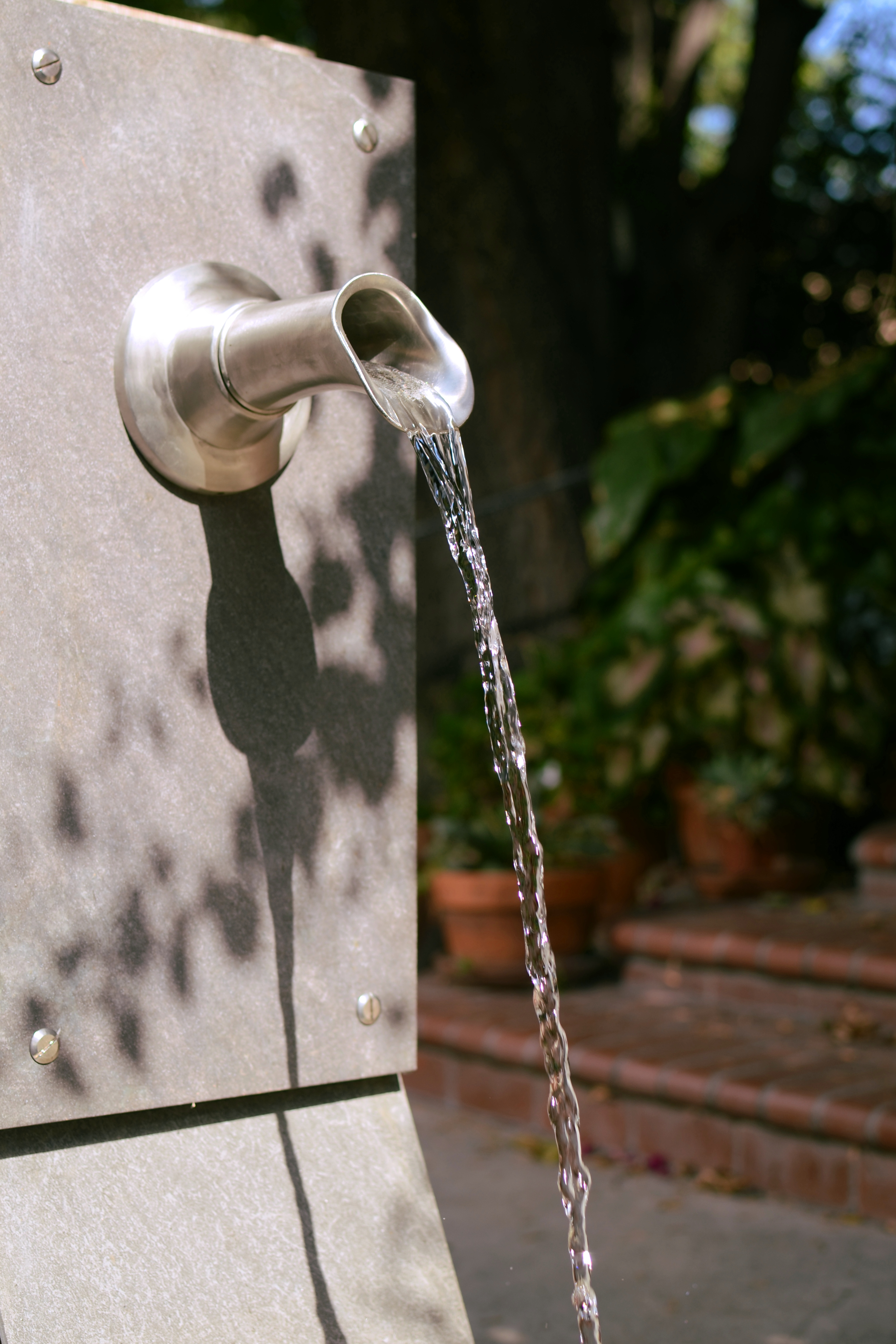 More technical info
Details
Part is made of

silicon bronze

It is designed to be used with 1½ in plumbing. The casting is threaded with 1½ in female NPT. A 1½ in male adapter is provided to screw into back of spout. If you have a piece of PVC pipe sticking out from the wall you could just glue the part in place.
A bonding lug for #8 AWG wire is provided at the back. A set screw at bottom of back plate secures the wire.
Decorative use only. More secure mounting options available but they are expensive and complicated to install—call to discuss.
The water arc is fairly stable and not overly susceptible to change if the spout is plumbed with a smaller pipe. Replace the provided male adapter with a bushing to fit your pipe. It's obviously not possible to move as much watew with a smaller pipe. Also, the flows will not match the ones listed on the flow chart
Designed to be removable. Provided it's installed in a way that allows for this. Review the installation detail.
What's provided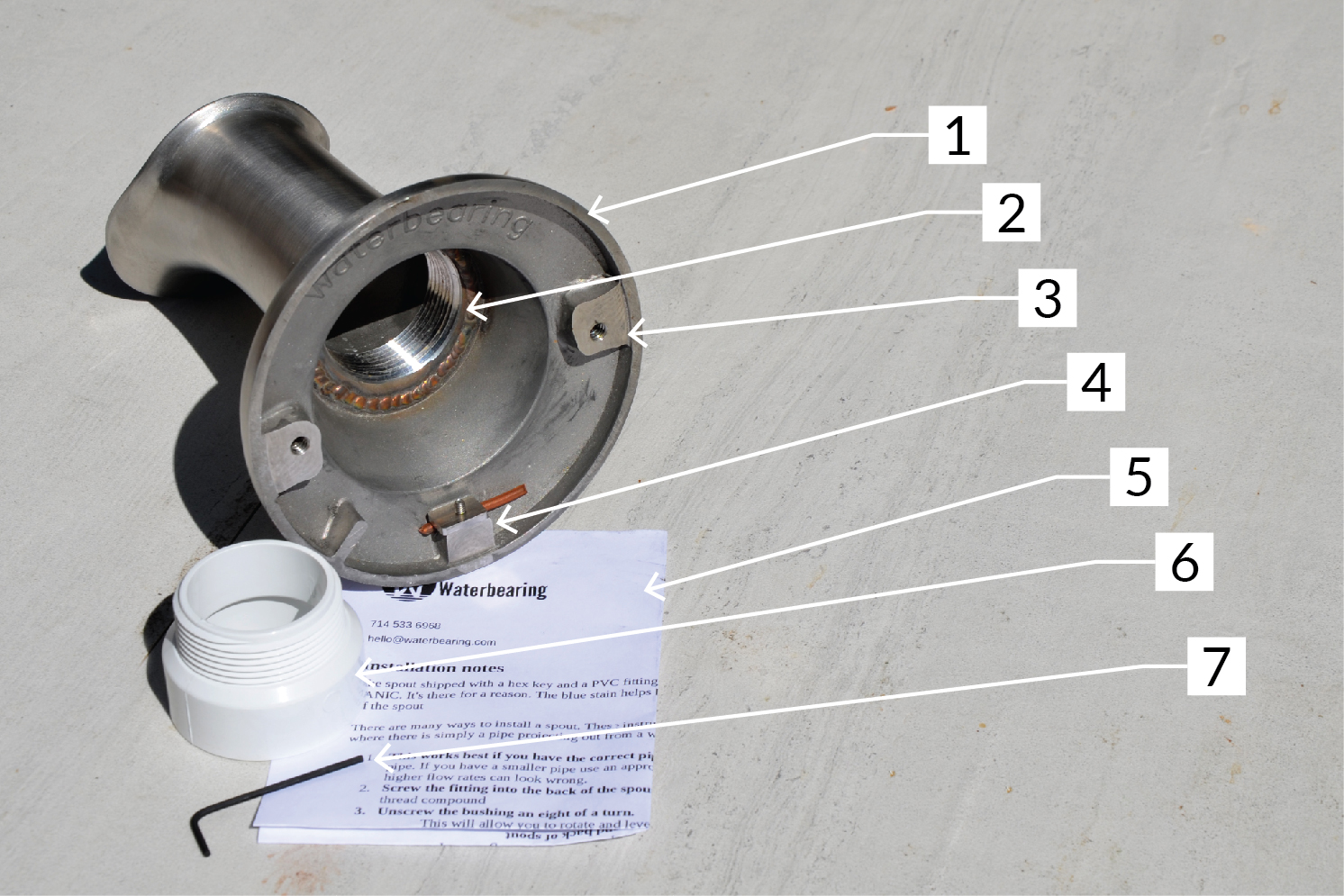 durable bronze casting
threaded with 1½ in NPT
two screw bosses with ¼-20 thread
bonding lug for #8 AWG wire
installation instructions
PVC male adapter fitting
hex wrench for bonding lug
a lot of love

❤