Neenah
spout
In stock
Ships in 2-3 days

Neenah is small. An anacronism in a world of "bigger is better" and "would you like to super-size that?" it excells at being small. It's just what's needed in tight and narrow spaces. The water stream doesn't project far from the spout. It handles very low flows very well. And it's kinda' cute.
Quick facts
Size

3 ¼ in diameter back plate
2 ¼ in projection

Material

silicon bronze

Plumbing

1 in pipe size

Arc length

2–5 in
see the flow profile
Available finishes
Available in the standard bronze finishes with either a wax or epoxy coating. More about the finishes and coatings is on the bronze finishes page





Living small
Bigger is better. At least that's what we've been taught to believe. And we tend to live life with this maxim in mind. But there are times when being diminutive is an advantage. Like when you drop your wedding band in the garbage disposal (what prompted you to take if off in the first place... rookie move, never doing that again...) and your hand isn't going to fit through the opening. Your meaty paws are great for laying brick or sawing logs, but thay are not goint to fit through that little hole. Take a deep breath and rethink how valuable being small really is (and how much ribbing you will have to take from your wife for having to dig it out of there).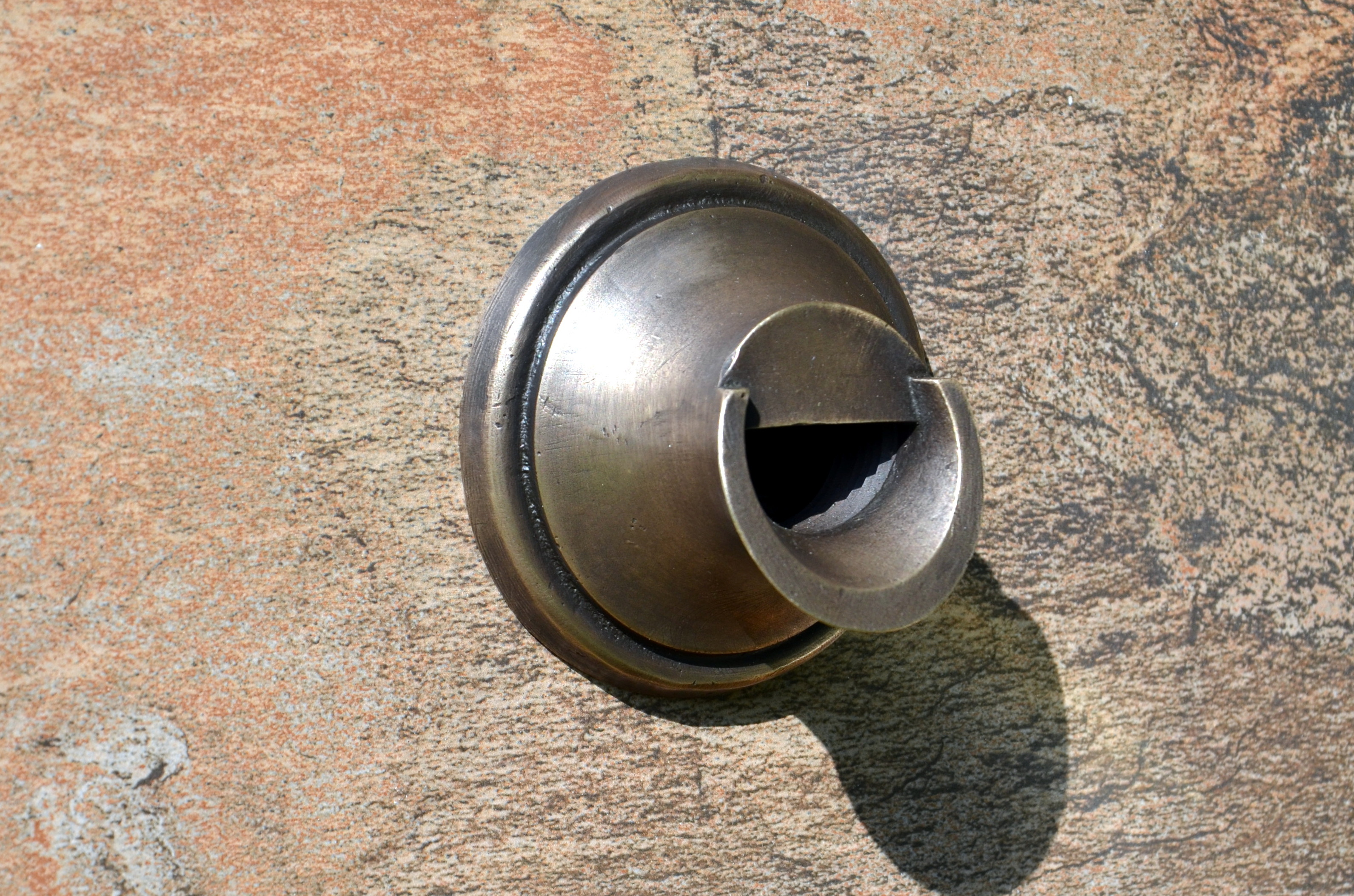 Tight arc control
Small fountains in tight spaces can be very challenging to design. When working with big catch basins or swimming pools, making sure the water arc lands in the water is trivial. There are numerous options for this sort of thing. In tight spaces, however, it's easy to miss the basin. You don't want the water to wander too far away and miss the target. Any sort of water arc won't work in these cases.
But, you also don't want to constrict the flow to the point that it's just dripping off the edge of the spout. The Neenah spout excells at moving a reasonable amount of water and keeping it from shooting too far out. It's an intersting middle ground that might make your small fountain work better.
At very low flows the water flows off the lip in a broken up stream. At slightly higher flows the stream resembles a fluid chain ( you've seen that before I'm sure ) and stays together fairly well. At higher flows, what would be considered the far end of acceptable flows, the stream becomes more active and tends to move around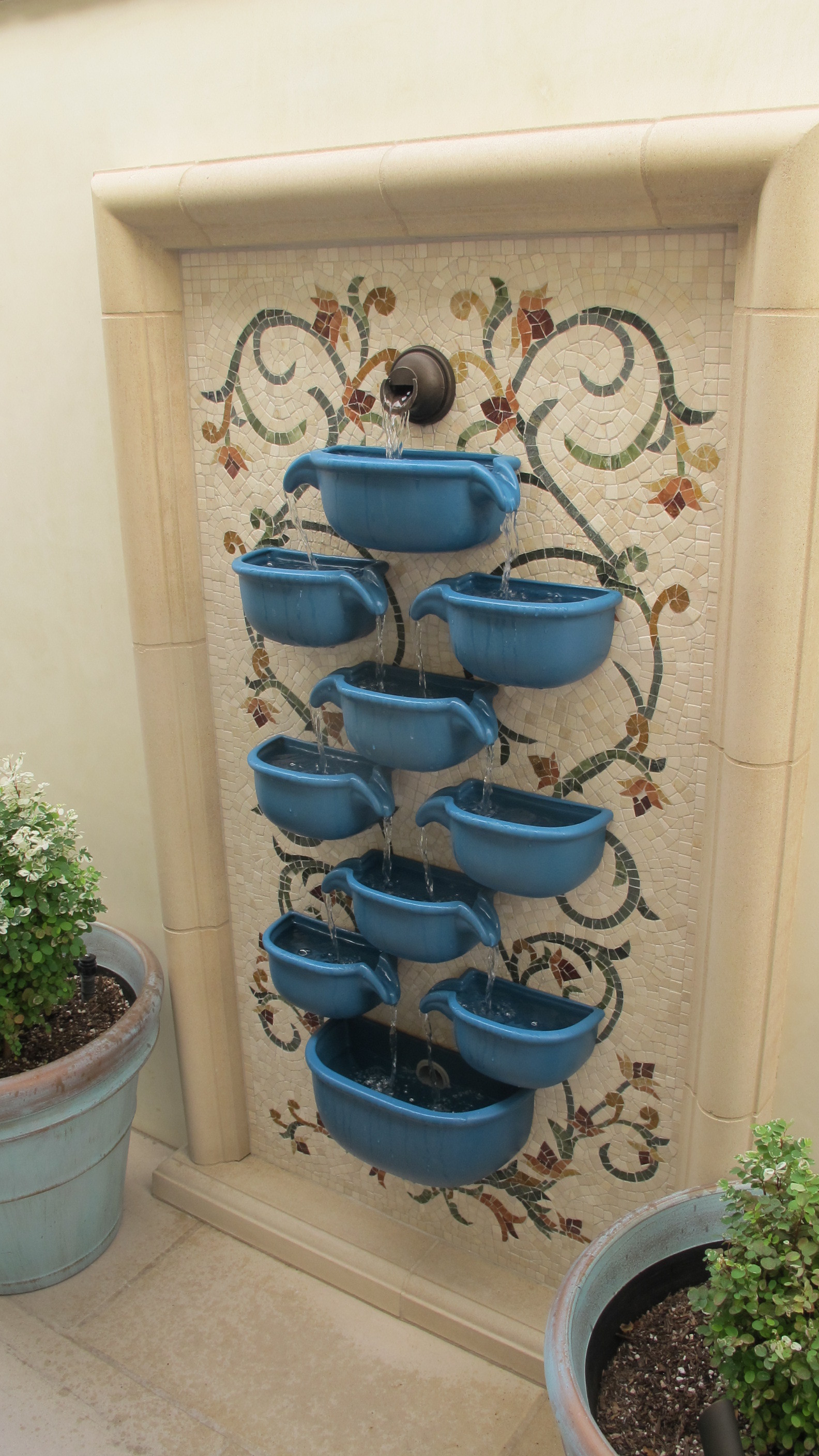 More technical info
Details
Part is made of

silicon bronze

It is designed to be used with ¾ in plumbing. The casting is threaded with 1 in female NPT. A PVC bushing ( 1 in male NPT × ¾ in socket) is provided to screw into back of spout. If you have a piece of PVC pipe sticking out from the wall you could just glue the part in place.
Decorative use only. More secure mounting options available but they are expensive and complicated to install—call to discuss.
The water arc changes if the spout is plumbed with a smaller pipe. It may distort in unexpected ways. Also, the flows will not match the ones listed on the flow chart
Designed to be removable. Provided it's installed in a way that allows for this. Review the installation detail.
What's provided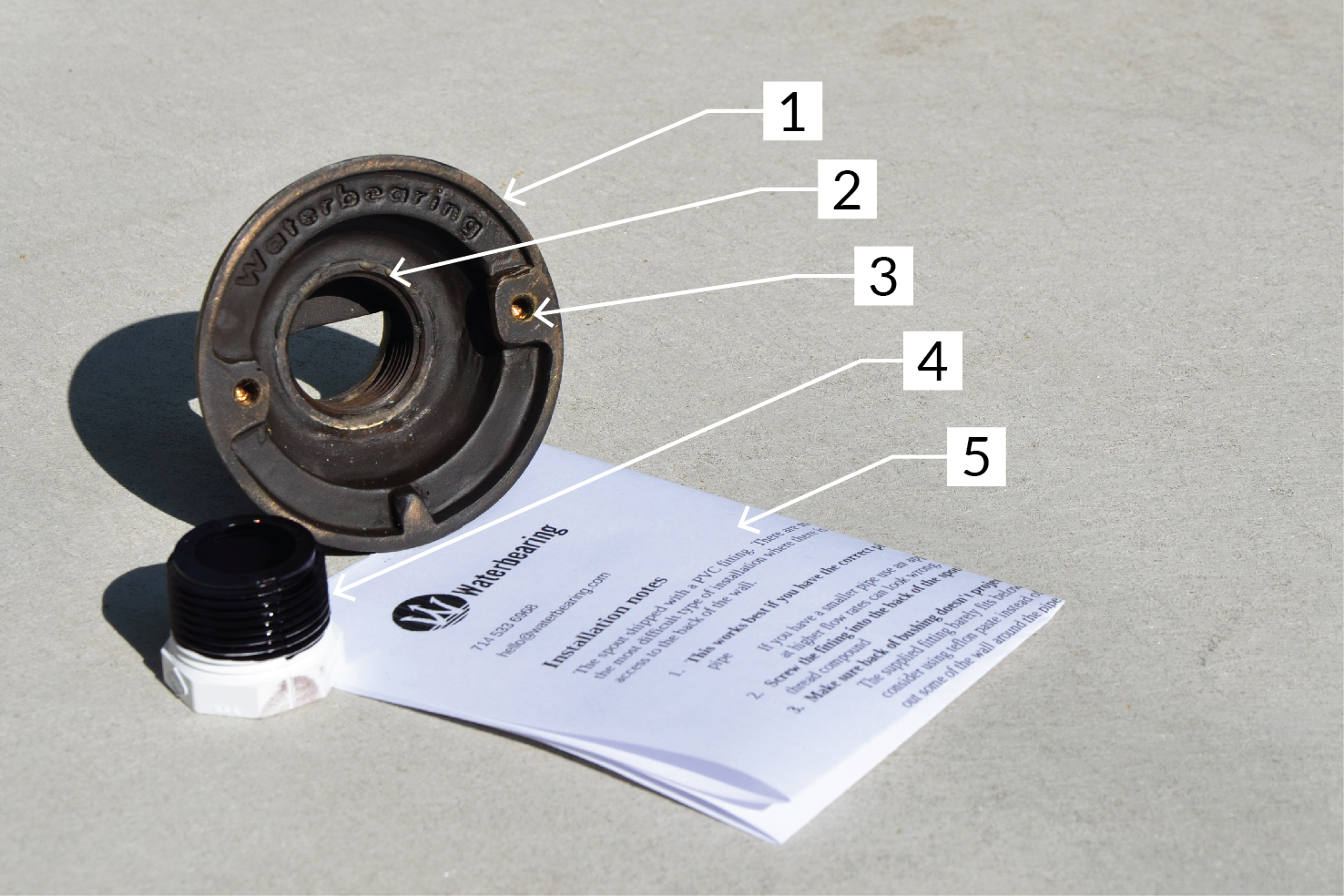 durable bronze casting
threaded with 1 in NPT
two screw bosses with ¼-20 thread
PVC bushing fitting
installation instructions
a lot of love

❤