Karlo
spout
In stock
Ships in 2-3 days

Karlo is a medium sized bronze fountain spout that works well in most installations. The square shape harmonizes with common landscape elements. It's a nice in-between size that works well on a smaller swimming pool water feature or a wall fountain. The spout produces a flatish ribbon of water that holds together well.
Quick facts
Size

4 ¼ in × 4 ¼ in back plate
4 ¾ in projection

Material

silicon bronze

Plumbing

¾ in pipe size

Arc length

9–16 in
see the flow profile
Available finishes
Available in the standard bronze finishes with either a wax or epoxy coating. More about the finishes and coatings is on the bronze finishes page





Proud to be square
Sometimes being Square can be good. Cylindrical spouts are over rated. Sure, there are more of them available. But, when you get right down to it, most of the time they are just a round peg trying to fit into a square hole. Being square has its advantages. You can play with your square neighbors and fit right in. Most of the elements in urban landscapes are straight and square. Tiles, brick, concrete pavers, precast concrete, walls, columns - your surrounding are formed by squares.
Square isn't for everybody…

Squares have sharp and unfriendly edges. A row of these would look fantastic on a swimming pool water feature. Just don't put it tool close to a swim lane or high activity area. If you were to bump into the corner of the spout ( say after spiking a volleyball during the fourth of July bash in you pool) it would smart.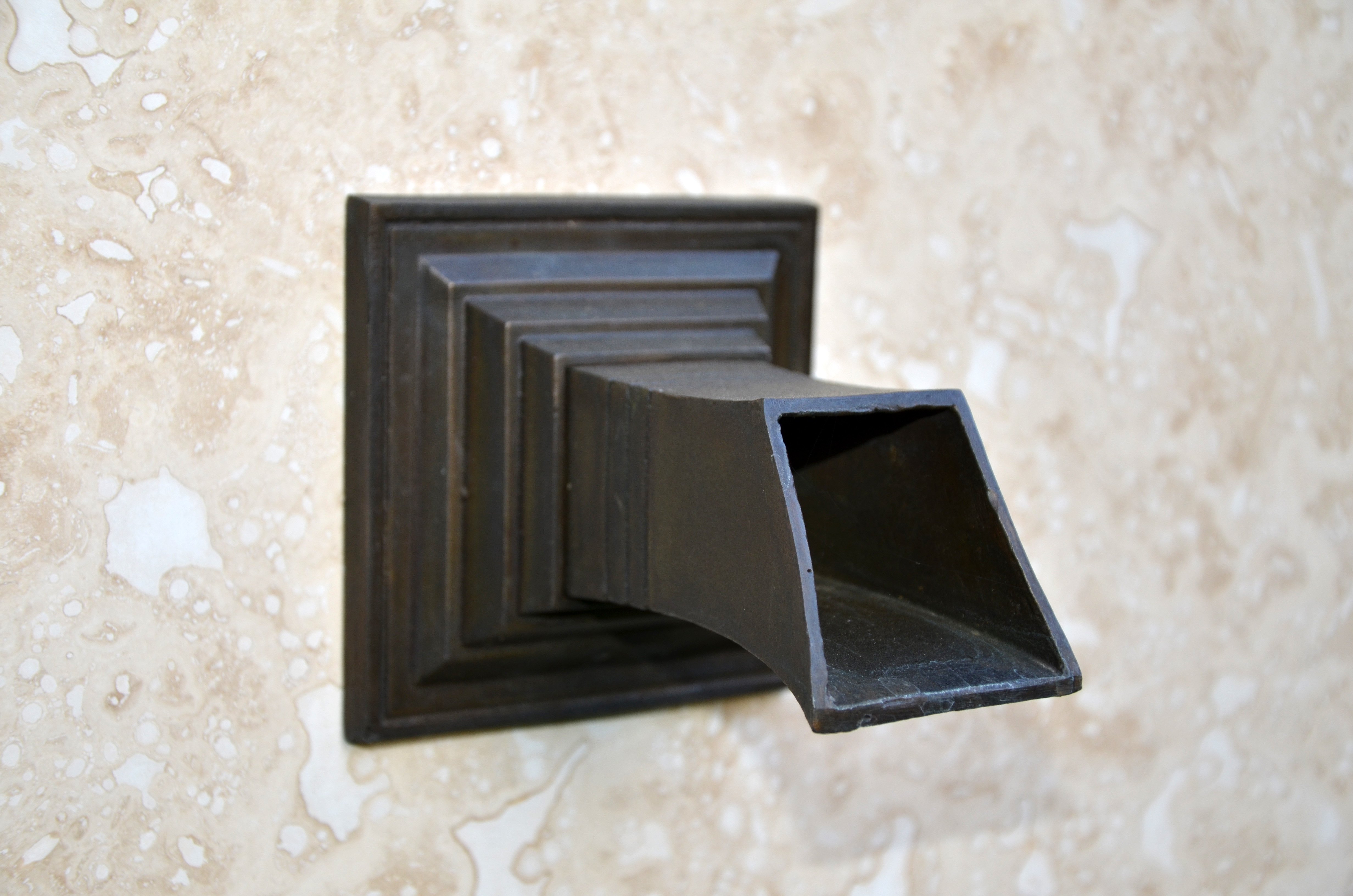 Appealing flows
The spout flows beautifully producing a nice flattish ribbon of water that tends to hold together well.
At lower flows the ribbon thins out and becomes a row of dropplets. This is a good thing. The stream begins to sound like rain drops. The unceremonius din of a stream of water perpetually flowing into a pool tends to be too overpowering in a courtyard or small space. Just a hint of rain might be the right touch.
At more moderate flow rates the stream hangs together fairy well. You get a stream that appears substantial yet doesn't splash too much. If the amount of splash must be kept to a minimum keep it in this range. As the rate of water flow increases, and the flow into the spout becomes turbulent the stream begins to wander and move around.
Try to plumb the spout with the recommended pipe sizes. If you're using 1/2 inch pipe you just won't be able to get an appealing stream at higher flow rates. Please look at Why using the right pipe size might be important
The spout isn't hard to install. It's been designed to make the harderst type of connection as painless as possible. If you've got a PVC pipe sticking out of a wall and have no way of getting behind the wall, then this spout simplifies your life. All you have to do is cut the pipe to the right length and simply glue the spout in place. Check out the installation instructions.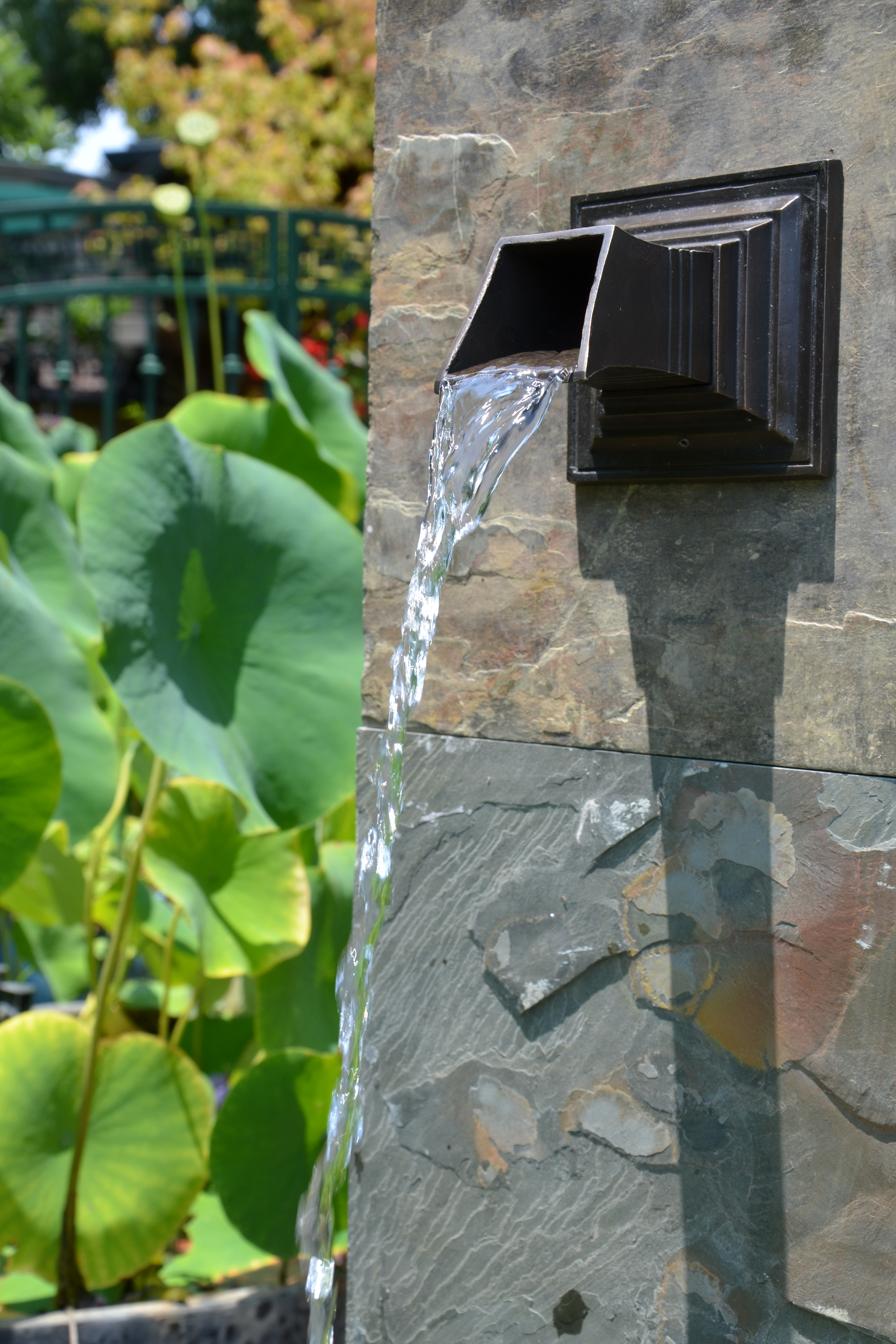 Upside down
The spout works well upside down. Even in this orientation it can handle a wide range of water flows. In the adjoining photograph you can see the set screw for the bonding lug on the top of the spout. The parts can be welded together so that the set screw is at the bottom. Call to arrange this.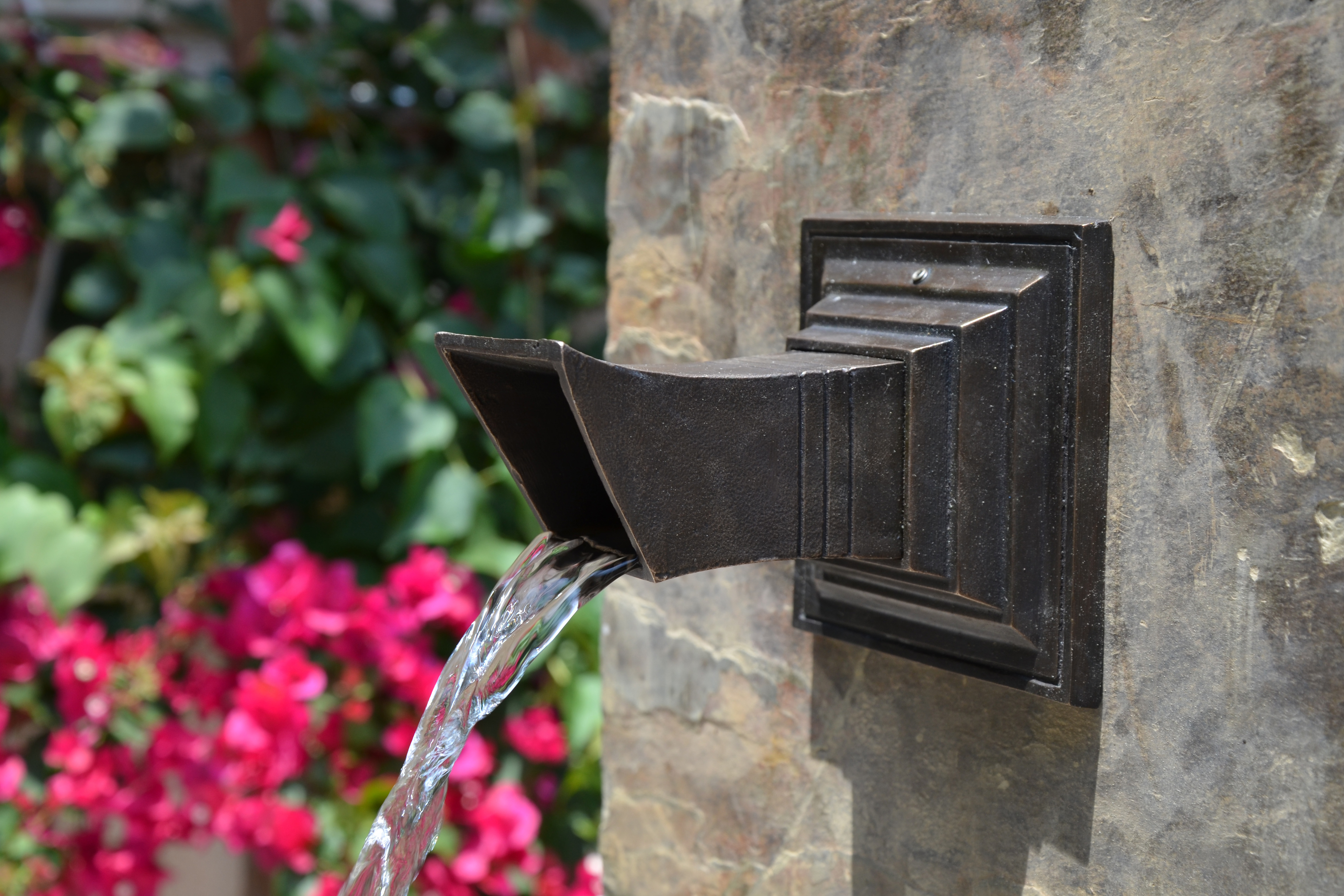 More technical info
Details
Part is made of

silicon bronze

It is designed to be used with ¾ in plumbing. The casting is threaded to acomodate 1 in female NPT. A PVC bushing ( 1 in male NPT × ¾ in socket) is provided to screw into back of spout. If you have a piece of PVC pipe sticking out from the wall you could just glue the part in place.
A bonding lug for #8 AWG wire is provided at the back. A set screw at bottom of back plate secures the wire.
Decorative use only. More secure mounting options available but they are expensive and complicated to install—call to discuss.
The water arc changes if the spout is plumbed with a smaller pipe. It may distort in unexpected ways, particularly if the feed pipe isn't parallel to the center line of the spout. It's obviously not possible to move as much water with a smaller pipe. Also, the flows will not match the ones listed on the flow chart
Designed to be removable. Provided it's installed in a way that allows for this. Review the installation detail.
What's provided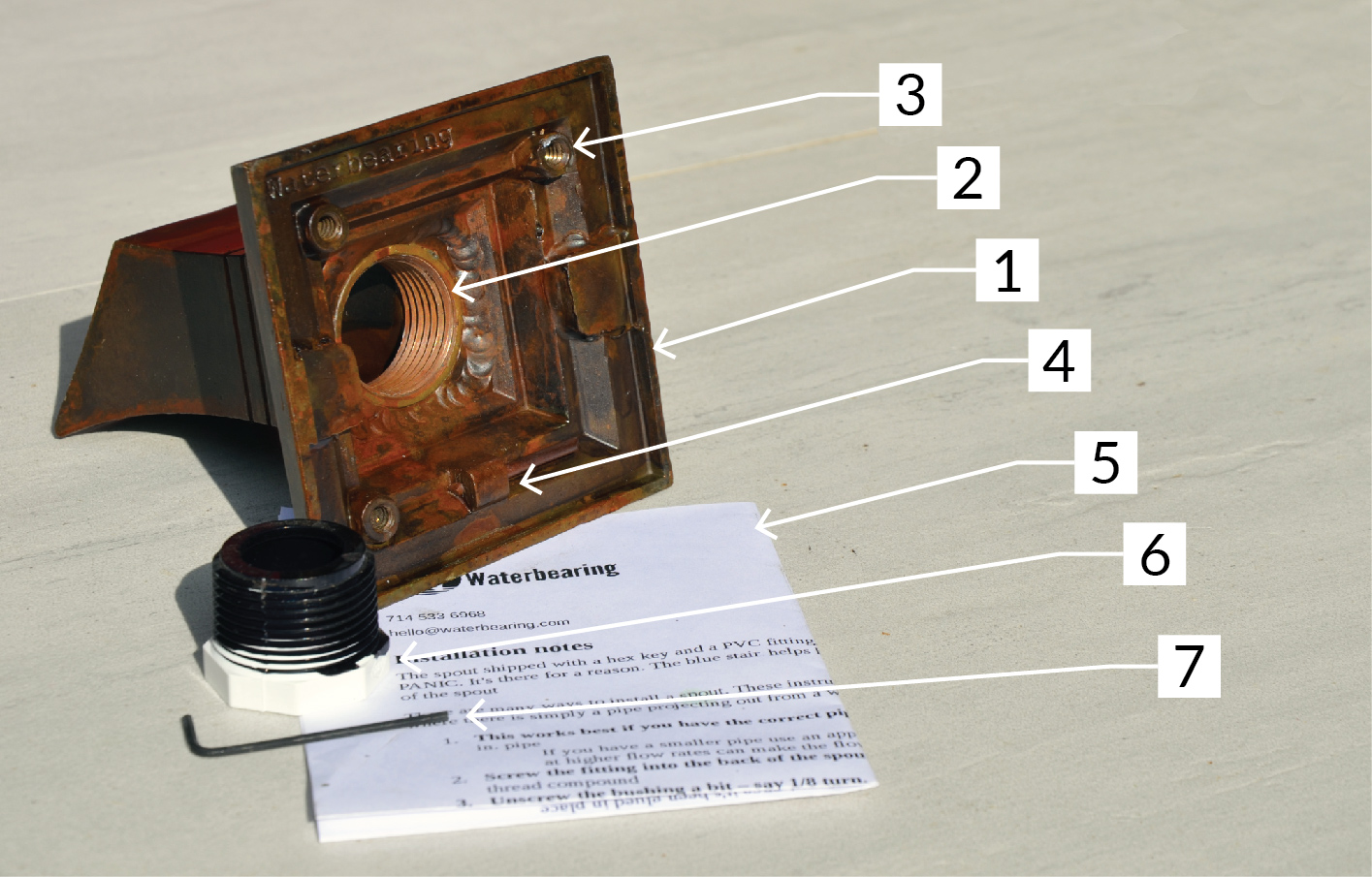 durable bronze casting
threaded with 1 in NPSC
three screw bosses with ¼-20 thread
bonding lug for #8 AWG wire
installation instructions
PVC bushing fitting
hex wrench for bonding lug
a lot of love

❤