Big Karlo
spout
In stock
Ships in 2-3 days

Big-Karlo is a larger sized bronze spout that can handle a considerable amount of water. It's big enough and has enough presence to not get lost on a larger fountain wall or pool bond beam. It throws an appealing stream of water at all flow rates within it's range. .
The basics
Size

5 in × 5 in back plate
6 ¼in projection

Material

silicon bronze

Plumbing

1 ¼ in pipe size

Arc length

9–16 in
see the flow profile
Available finishes
Available in the standard bronze finishes with either a wax or epoxy coating. More about the finishes and coatings is on the bronze finishes page





It's square
This is Karlo's big brother. He's just as square as Karlo, but is more like a trumpet or air horn on a truck. Thankfully, he's not as obnoxious.
The spout flows beautifully producing a nice flattish stream of water. It is about the right size for a swimming pool bond beam or a larger fountain wall
Square isn't for everybody…

Squares have sharp and unfriendly edges. A row of these would look fantastic on a swimming pool water feature. Just don't put them too close to a swim lane or high activity are. If you were to bump into the corner of a spout ( say after spiking a volleyball during the fourth of July bash in you pool) it would smart.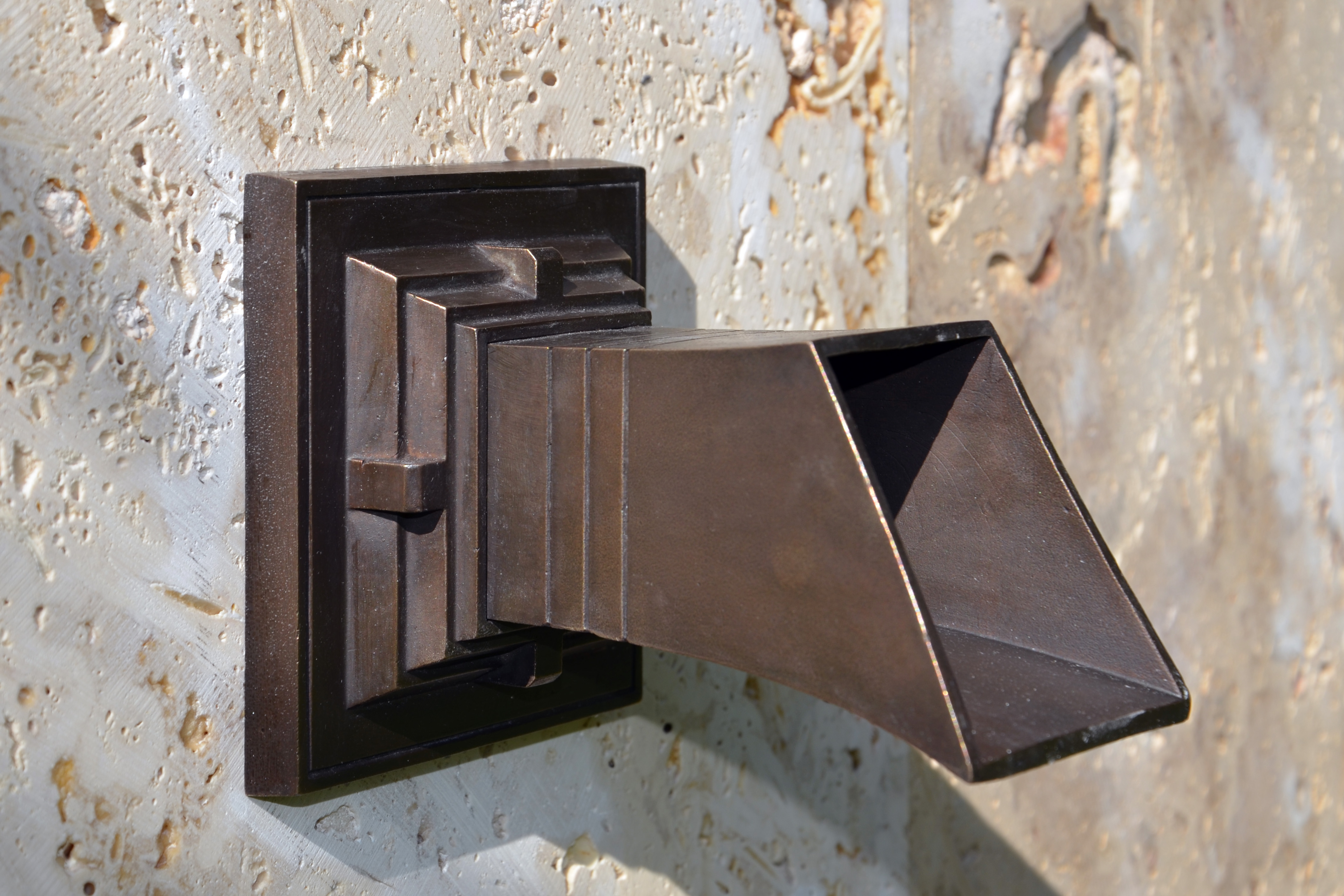 Flows with some presence
The wide stream of water has considerable presence. It's not as well mannered (ummm … boring) as a sheet fall. It can have some mass and movement which just enhances it's presence.
It's best used someplace where you need a larger piece that can make some noise. This is not for a quiet courtyard where you plan to relax and read a book, or write your next screenplay (unless of course it's an action adventure).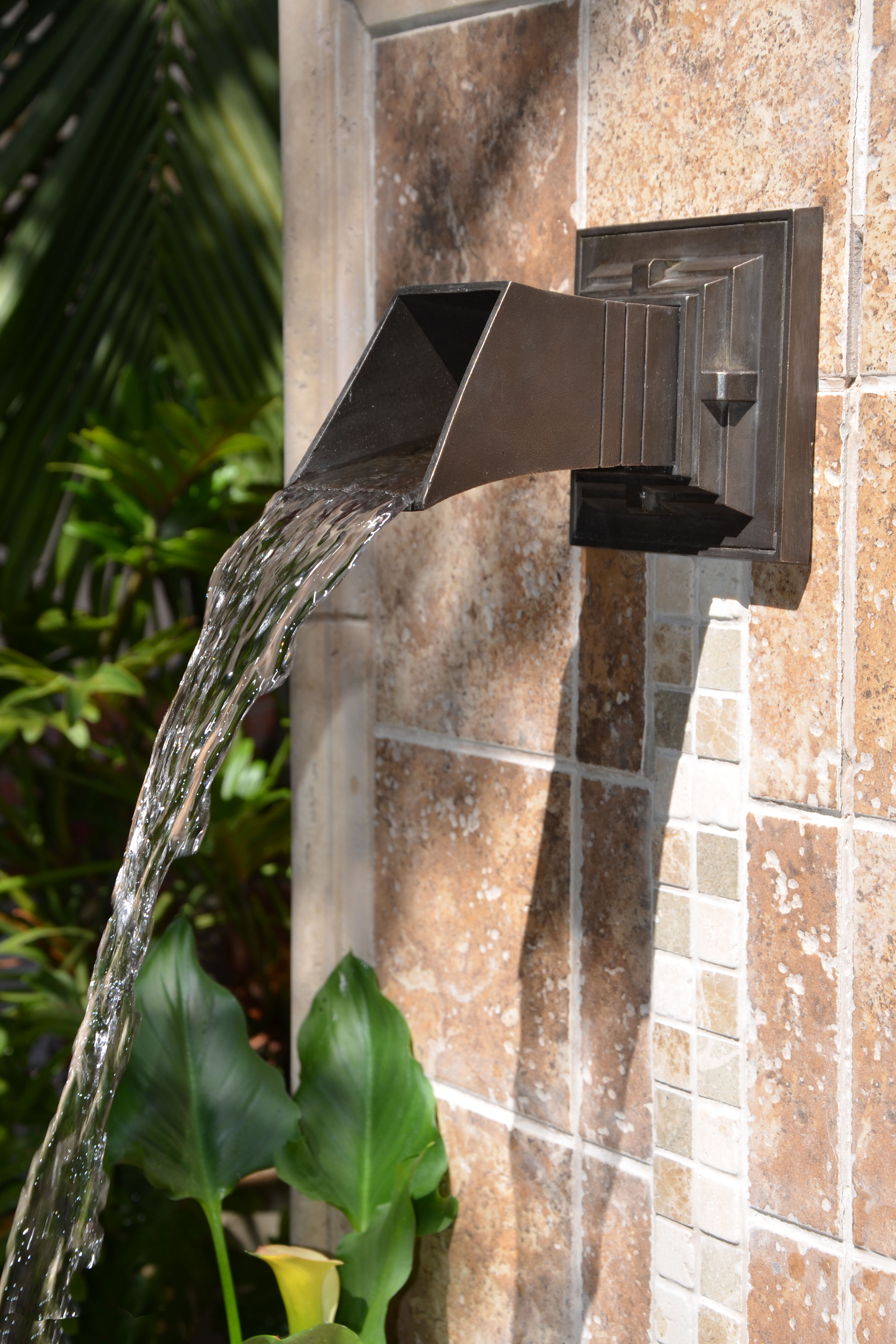 More technical info
Details
Part is made of

silicon bronze

It is designed to be used with 1 ¼ in plumbing. The casting is threaded to accommodate 1 ¼ in female NPT. A PVC male adapter is provided to screw into back of spout. If you have a piece of PVC pipe sticking out from the wall you could just glue the part in place.
A bonding lug for #8 AWG wire is provided at the back. A set screw at bottom of back plate secures the wire.
Decorative use only. More secure mounting options available but they are expensive and complicated to install—call to discuss.
The water arc is fairly stable and not overly susceptible to change if the spout is plumbed with a smaller pipe. Replace the provided male adapter with a bushing to fit your pipe. It's obviously not possible to move as much water with a smaller pipe. Also, the flows will not match the ones listed on the flow chart
Designed to be removable. Provided it's installed in a way that allows for this. Review the installation detail.
What's provided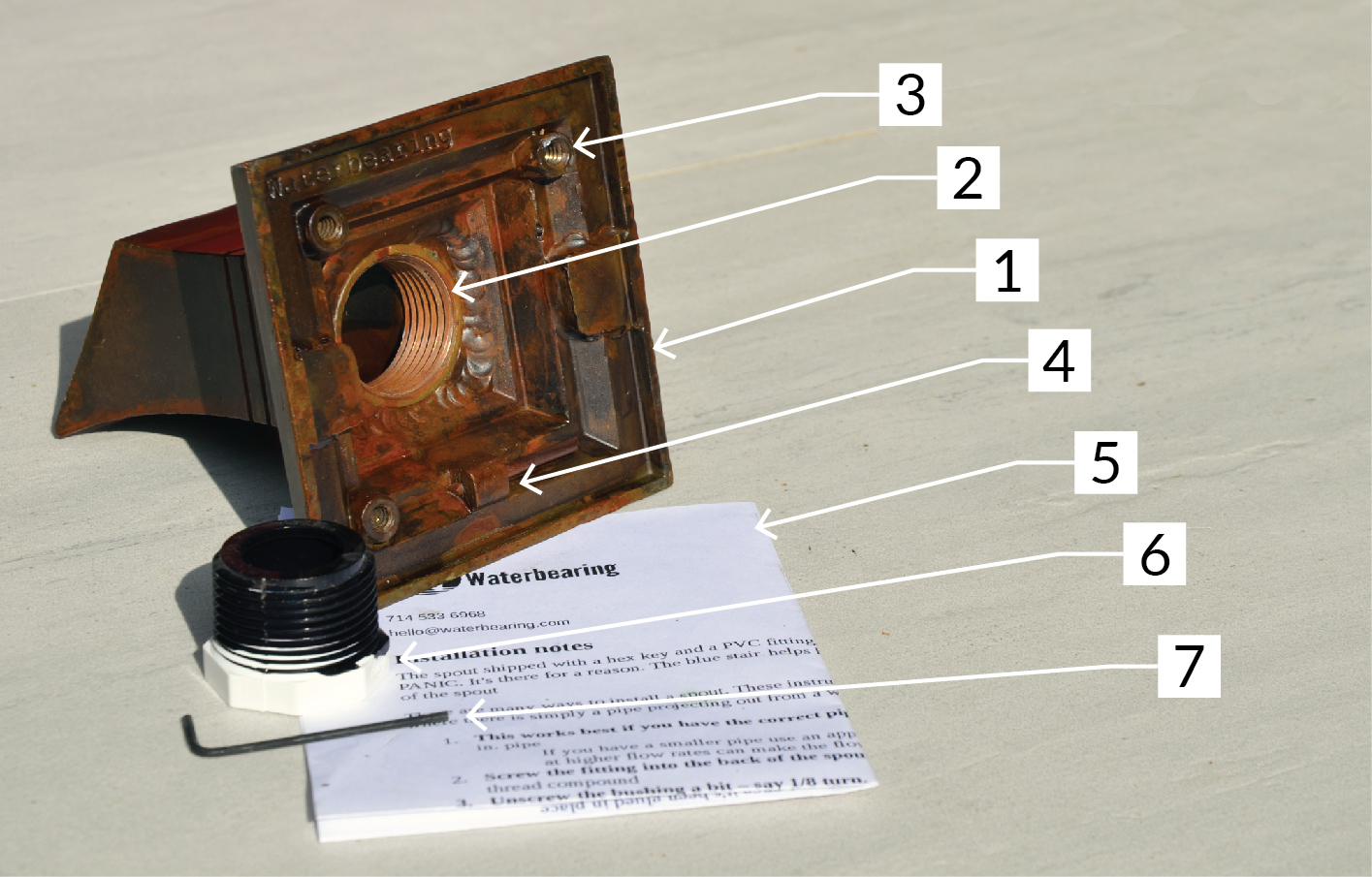 durable bronze casting
threaded with 1 ¼ in NPSC
two screw bosses with ¼-20 thread
bonding lug for #8 AWG wire
installation instructions
PVC bushing fitting
hex wrench for bonding lug
a lot of love

❤